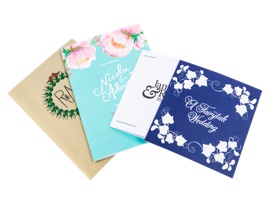 At Northside Graphics, we have been working with couples for over 28 years to ensure that their wedding stationery is unique and special.
Some of our most popular products:
Some of our most popular products:
Saddle stitched books
Business cards
Roller banners
Wedding stationery
6/48/96 sheets
Tent / Strut cards
Postcards
Stickers
Small posters
Voucher booklets
PVC & Mesh banners
Luxury papers
Invites
Calendars
Wiro bound books
Business stationery
Bus advertising
We know just how special your big day is and what is required in the build up to ensure everything goes to plan.
We offer a specialist service that includes exquisite paper stocks guaranteed to make your wedding materials stand out and look amazing. From metallic pearlescent to textures such as linen, we have the widest and finest choice available anywhere in Northern Ireland today.
Our Indigo presses mean that your invites, order of services, menus and name cards will all look exactly the same and will convey all of the hard work that you have put into designing and creating your wedding materials.