About Us
Established in 1988, Northside Graphics is now recognised as the oldest and largest Digital Printing company within Northern Ireland.
Who we are
Our logo tells you what we are all about – Digital Printing Excellence. Using HP Indigo presses for our small format and HP and Roland presses for our large format means that we can offer you the highest quality printed materials every time you place an order.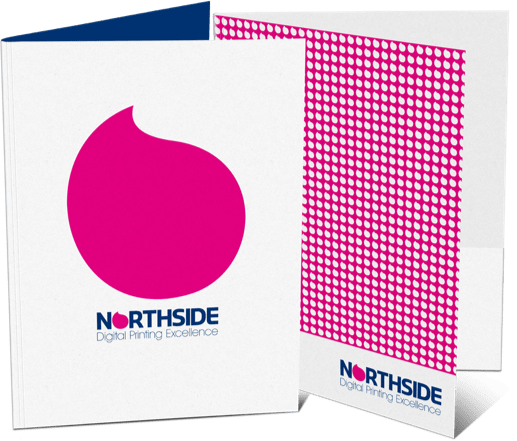 We appreciate just how busy our customers are and the time constraints and pressures often placed on you. For this reason we are set up to ensure the quickest possible turnarounds for your orders – we sometimes even surprise ourselves. Due to our size and experience, we are in a position to offer fantastic value for money without compromising on quality which is often the way. Northside Graphics offer an all-encompassing service from the inception of your project right through to the final printed piece. Our team of in house designers are on hand to assist with the design of your materials. Equally, our pre-press team are available to advise on how to correctly set up your artwork if supplying it yourself. Our Sales Team have a wealth of expertise and experience and are also available to advise on what materials and finishes will help make your jobs really stand out. So, if you want Digital Printing Excellence, we know you won't be disappointed. Call us today to see how we could help you more.
Testimonials
Don't just take our word for it, here's what customers have been saying about Northside Graphics
Can I just say from Alison and I a HUGE thanks for everything you have done for us this year!! We were delighted with your service. we found you so hopeful, professional, cost effective and generally a delight to work with! We will without doubt use you again for any ACA work or Miss NI work, thanks for keeping to your word and being so pro-active and for working to our very tight time lines too! Also for putting up with all our changes etc! Thank you for being a star, and to your team as well! The event was a great success and we are delighted overall!
Brain Injury Matters (NI) was impressed with the quality of customer service from Northside and would have no hesitation in recommending or reusing their services. We were under pressure time pressure and Northside delivered results when needed; a business to be trusted!
I find Northside extremely helpful with all my printing needs. As a whole, the company continually meets and exceeds my expectations on all printing jobs. They regularly provide competitive quotes, new suggestions, and constantly meet all our print deadlines.
The market in Outdoor has changed and being able to adapt to our clients' needs is essential. Northside have been fantastic in working with us on changes to large format poster print and delivery - while still delivering on price and service
Would just like to say a BIG THANK YOU to all involved in producing the various items (CD booklets and inlays) and a special thanks for going that extra mile to leave the items into the Portside Inn for me, this made my life a lot easier and was greatly appreciated. I'm extremely happy with the quality of workmanship an level of print supplied by Northside Graphics and I would have no problem in recommending your services to others, an look forward to dealing with you all in the future. Your service has enhanced my customer's produce and they will benefit from this greatly.
Northside Graphics provide a high quality, value for money service in a professional, reliable and friendly manner. They listen to our requirements and provide fantastic assistance to ensure the finished product meets our expectations, whilst delivering it within time and budget.
I have to say, there is no other printer I would prefer to work with than Northside.
The staff at Northside have simplified our experience of buying print. We consistently receive a high standard of service and after sales care, making the whole process much more enjoyable and less stressful as a result. Without exception I have found the sales team to be both knowledgeable and genuinely accommodating and would have no reservations whatsoever in recommending Northside as a cost effective print partner to any business
We love working Northside! Excellent customer service, excellent print quality and always there for us. Not only do we feel valued as a client but they always go the extra mile to make sure our print work is delivered on time and within budget. They are constantly evolving which means we offer the best in print solutions to our customers. A pleasure to work with.
Our posters, business cards and brochure arrived bang on time and look fantastic. Designers and project managers in Portwest are very happy with the turnaround time and, much more importantly, quality, which is excellent. The finish of our brochure and business cards in particular is great.
When a deadline is tight and quality must be kept to a high standard, Northside Graphics will always pull out all the stops, and that's what matters in today's market. I have complete confidence that when a job is sent to Northside Graphics it will be dispatched correctly and on time.
I have always been more than happy with the service provided by Northside Graphics. The service from start to finish has always been exemplary and on a professional, knowledgeable, yet friendly level. Nothing ever seems to be too much trouble & I am made to feel unique, never feeling that I am just one of many clients that you have to deal with each day. I am always impressed by how efficient you are especially when I am always looking for print work yesterday! I would happily recommend your services to others.
'Prompt, professional and easy' 'I just wanted to say how pleased we all are with every single item you've produced. Northside are absolutely superb, with lots of correspondence back and forth - always prompt, professional and easy to deal with. I have already recommended you to a number of our partner organisations and will continue to do so'.
Recent Awards
A few accolades we have picked up along the way.

Print Week Awards
2023 Winners
The Digital Printer Awards
2021 Winner Irish Printer Awards
Winner 2019

The Solutions Awards
Winner 2018