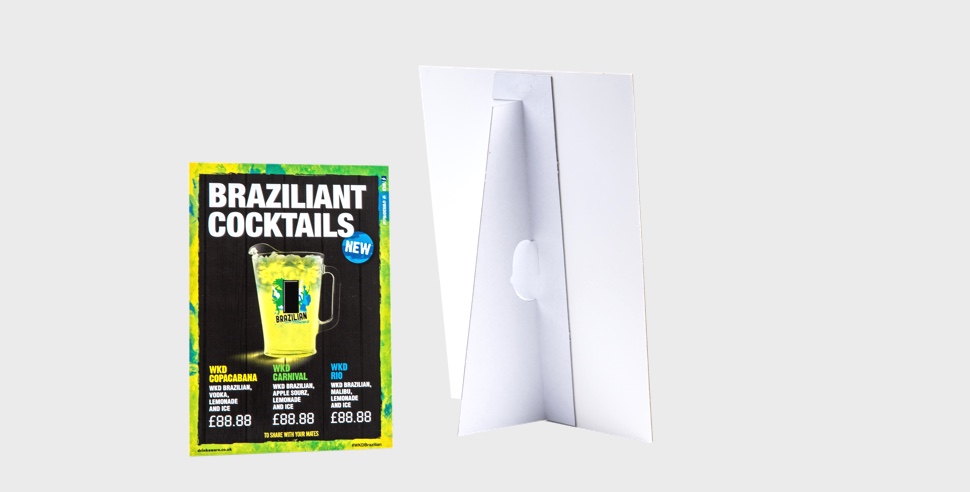 Our Strut cards are a great way to display a message on your counter tops, bar tops or salesman's desks.
Some of our most popular products:
Perfect bound books
Saddle stitched books
Business cards
Roller banners
Wedding stationery
6/48/96 sheets
Luxury papers
Invites
Calendars
Wiro bound books
Business stationery
Bus advertising
Tent / Strut cards
Postcards
Stickers
Small posters
Voucher booklets
PVC & Mesh banners
Whether it's a direct sales message or information that you want or need to convey to customers or patrons, strut cards are a cost effective and professional way to do so.
Printed A6, A5, A4 or A3 onto a good quality paper, these are then lined onto 2mm show card and either matt or gloss laminated to protect them and enhance their look. A single strut is then attached to the rear which allows the product to be free standing ensuring that they take up as little space as possible but remain very prominent.
Tent cards are multi panel free standing point of sale items which are ideal when you have several messages to convey. These are usually printed out of an oversized A4 and creased and folded to either give 3 or 4 panels/sides where messages can be displayed. These are usually laminated to guarantee they last longer and again multiple types can be ordered as part of the same order.