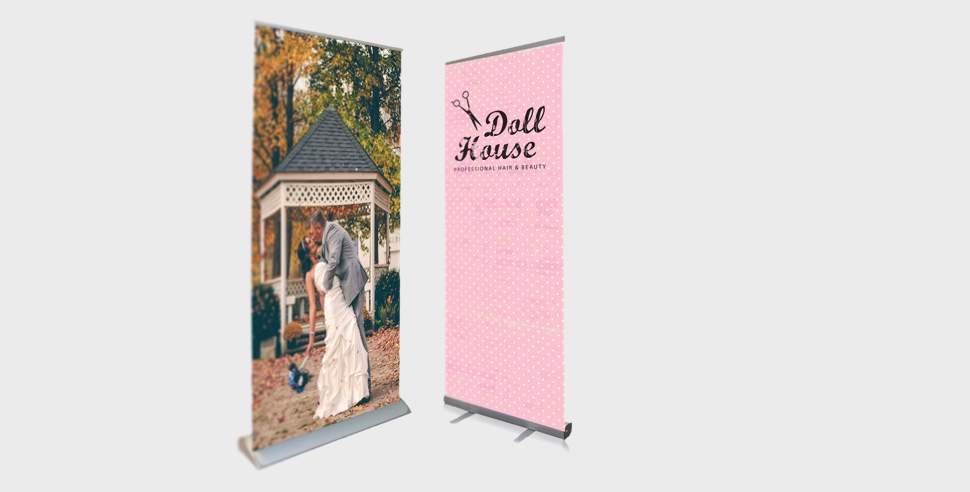 At Northside Graphics we call them roller banners but they're also known as roll ups, pull ups, pop ups and a whole host of other things. One thing's for sure though – ours are great!
Some of our most popular products:
Perfect bound books
Saddle stitched books
Business cards
Roller banners
Wedding stationery
6/48/96 sheets
Tent / Strut cards
Postcards
Stickers
Small posters
Voucher booklets
PVC & Mesh banners
Luxury papers
Invites
Calendars
Wiro bound books
Business stationery
Bus advertising
We have 3 models; silver, gold and platinum depending on your requirement and budget. The entry level silver is ideal for one off events or if you are going to put it up and leave in the same place in your shop or showroom for a period of time.
Our gold stand is very similar to our silver but gives the luxury of being able to be put up and down multiple times making it ideal for use at exhibitions or other off site events. These stands can also have their graphics replaced unlike the silvers. Our premium stand is the platinum. These stands are a fixed base without the swing out legs that both the silver and golds have. They weigh more and are 150mm taller than the other 2 stands.
All 3 stands are a standard width of 800mm with the gold also available in 1000mm, 1200mm, 1500mm and 2000mm wide.
All stands include the stand, printed graphic and padded carry bag.