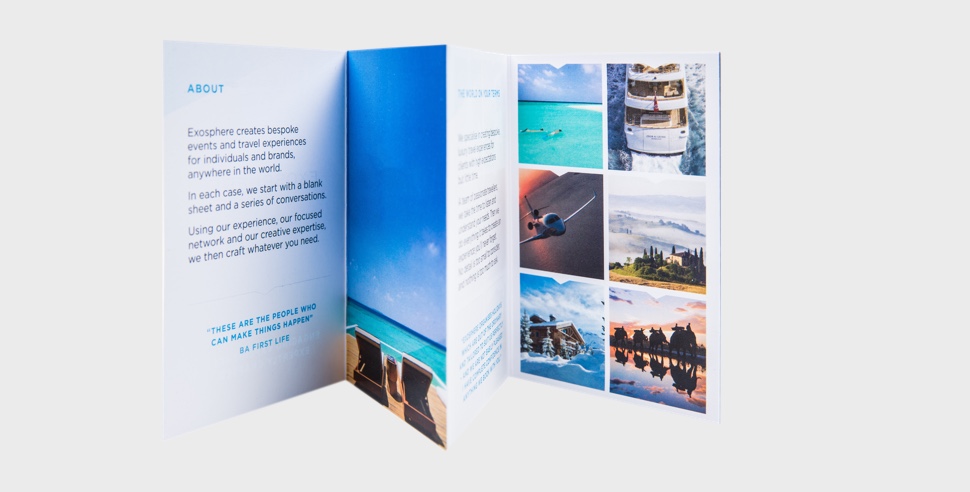 When you have a bit more to say about your products or services and need more space for text and images, we recommend our folded leaflets.
Some of our most popular products:
Perfect bound books
Saddle stitched books
Business cards
Roller banners
Wedding stationery
6/48/96 sheets
Luxury papers
Invites
Calendars
Wiro bound books
Business stationery
Bus advertising
Tent / Strut cards
Postcards
Stickers
Small posters
Voucher booklets
PVC & Mesh banners
Printed out of an SRA3 sheet, these are printed flat and then finished in a variety of ways and sizes. 4pp A5 and 6pp 1/3 A4 folded leaflets are our most common but we offer everything from roll folds to Z folds and half folds to gate folds.
Printed on our HP Indigo presses, we guarantee the sharpest quality and vibrant colours that we know you'll love. So often leaflets are a last minute thing for an event or a launch and that's what we're good at. For short and medium sized runs we can often offer same day and next day turnaround.
Just like our standard unfolded leaflets & flyers, you can choose from our standard silk, gloss or uncoated stocks. Also available are recycled papers for those with a requirement to be more environmentally considerate or for the highest quality look and feel, choose from any of our 13 premium luxury papers including textured, coloured and pearlescent.